This site is a dedicated site for the NC4ES club for Amateur radio, which is a one of the many tools available to Eastern HPC. We are a group of volunteers who provide our various expertise in radio amateur radio communications and IT related services for the eastern counties in of North Carolina.
Eastern HPC Mission
Our mission is to ensure the delivery of healthcare services that protect the health and well-being of the residents and guests of North Carolina before, during, and after events that may overwhelm the healthcare system.
About DMR – NC4ES DMR PowerPoint
System Information / AUP
RADIO LINK SYSTEM OVERVIEW:
The Eastern Healthcare Preparedness Coalition AUXCOMM group (NC4ES) obtained a good portion of the decommissioned UHF North Carolina Medical Control Network in late 2018. The robust system consisted of high power Tait T800 II base stations along with supporting hardware. Currently, all EHPC regional hospitals have 2 meter/ 70 centimeter mobile radio go kits for disaster operations. Some hospitals have HF stations in addition to satellite telephones for communication redundancy. With the rapid growth of DMR communications, it was a natural progression to consider how to utilize a large amount of equipment in a modern way. By using a small computer and audio/data processing board,users are able to modify this older equipment to work in the newest digital TDMA (Time division Multiple Access) formats. TDMA digital communication offers numerous benefits to current practices-Double capacity from legacy modes, increased battery life, clearer communications for longer and the addition of data transfer (Text messaging). Equipment will use the preexisting DB408 antenna at each facility that was used for the NC Medical Control Network. Participation in the system is ultimately up to each facility and there is no requirement to install or use the link system.
It is the desire of the NC4ES AUXCOMM group to have a site located at every hospital in the EHPC region. If connectivity is present at the facility, the repeaters will be linked into a "Cluster" that all hospitals are associated with on a talk group. Any user keying up on the talk group will be able to communicate with all 19 hospitals in the region instantaneously. In the event of a network or data backhaul outage, the repeaters will still continue to function in a standalone format. This will ensure a local communication system is available for each local area at a minimum. While we hope that power and data remains intact at all regional healthcare facilities, it is understandable network connectivity failures do occur. In the event of complete network failure, NC ESF2 Communication Unit (FIELDCOMM) support is available to backhaul connectivity over satellite as a last resort. It is important to remember that a total loss of connectivity does not make the system inoperative, it only isolates the radio site into a "LOCAL" only coverage. Each facility will have a variety of local coverage footprints based on system elevation.

NC4ES ECHO EAST COMMUNICATIONS SYSTEM WORKGROUP:
The NC4ES (Eastern Healthcare Preparedness Coalition) Auxiliary Communication (AUXCOMM) workgroup consists of members within the State Medical Response System. The workgroup will be updated yearly. The workgroup consists of the following individuals:
Matt McMahon (Program lead) WU2V
Michael Karp KN4KCW
Lor Kutchins W3QA
Ed Wafford W4EDW
ECHO EAST REGION: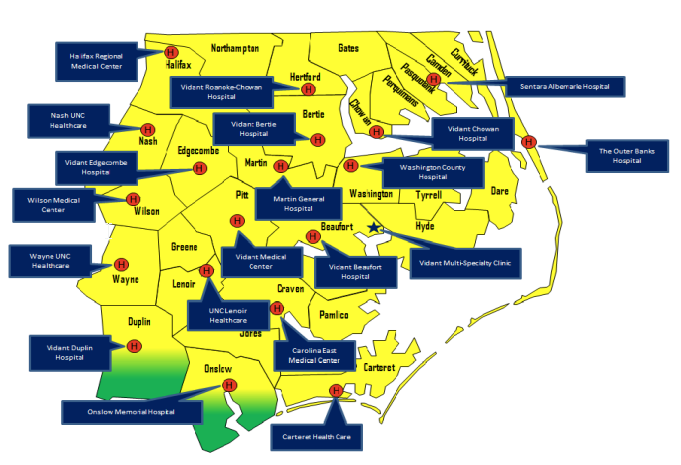 MINIMUM COMMUNICATION LICENSING REQUIRED FOR SYSTEM USAGE:
The NC4ES ECHO EAST system is considered amateur radio and users are required to have a valid FCC radio license. The main purpose of the system is to ensure auxiliary communications are available to Eastern North Carolina healthcare facilities during times of disaster. NC4ES full encourages and hopes that all amateur radio operators utilize and train to become better communication practitioners. The EHPC Cluster system is hosted in a commercial data center with full redundancies. The main servers are running a variety of programs (HBLink, DMRLink, Openbridge among others). EHPC also has a CBridge for managing IPSC (Motorola IP Site Connect) sites/systems.
EMERGENCY SITUATIONS THAT ARE IMMEDIATELY DANGEROUS TO LIFE AND HEALTH:
The EHPC Cluster is designed to support auxiliary communications at healthcare facilities during disasters, training among radio amateurs and to foster relationships. The system is open to all radio amateurs and encourage its usage. It is the goal of NC4ES to make the amateur radio operator pool in Eastern NC larger, especially at healthcare facilities. NC4ES encourages operators to take the DHS AUXCOMM class for proper disaster communication training. We understand that special situations may occur where on site amateur radio operators may not be available and/or arrival of ESF2 AUXCOMM support may long. If the radio link system is functional (and no other means of communication are working)-we expect ANY personnel to ask for help. This is not permission to transmit without the appropriate licenses, but a worst case scenario where no operators are on site and urgent help is needed. The following conditions must be present: Immediately Dangerous to life and health. Untrained personnel are asked to relay the following information in this situation: "LIP" (LOCATION, IDENTIFICATION and PROBLEM) over ANY resource available.
LINKING OF THE CLUSTER INTO OTHER TALKGROUPS / MODES AND NETS:
Linking disparate radio systems are not allowed unless prior permission is obtained from the workgroup. This includes linking of additional talkgroups, VOIP solutions such as Zello and audio gateways. North Carolina ESF-2 Communication Unit's do have a blanket authorization for gateway linking during disasters and/or training events. Any nets conducted on the cluster need prior approval except during disaster situations.
REASONABLE EXPECTATIONS OF EHPC CLUSTER AND ON-DEMAND TALKGROUPS DURING DISASTERS:
The EHPC cluster sites will be located at most Eastern (EHPC) regional hospitals. The talk group cluster is designed to support ALL radio amateurs and AUXCOMM support in NC. In the event of healthcare impacts to the region, NC4ES asks that any healthcare resource requests and/or support are given priority. The cluster is designed for an "all hazard" support approach. On demand talkgroups will be available as long as data connectivity is present. NC4ES recommends not activating on demand talkgroups for listening only, especially during disasters. Responsible management of talk group activation begins with proper usage and disconnecting when completed.
NETWORK BACKHAUL FAILURES
Network connectivity is fairly robust these days. EHPC does recognize that Eastern North Carolina is prone to heavy flooding and damage from wind events. We understand connectivity may be impacted during times of infrastructure degradation. Positioning sites at hospitals are beneficial for numerous reasons. Hardened structures along with resilient/redundant data capabilities and reliable power is commonplace. EHPC has a variety of resources including backhaul satellite, cellular hotspot and point to point bridging available for emergencies.
6
SITUATIONS WHERE USERS ARE CAUSING INTENTIONAL INTERFERENCE OR NEGATIVE IMPACTS TO THE LINK SYSTEM:
The NC4ES cluster repeaters are linked fulltime and the network is operated by the NC4ES server team. The cluster is governed by EHPC with partnering help from the site facilities. Administrators (EHPC/NC4ES) retain full ownership of the cluster and may decide at any time, without prior warning, who may use them and who may not. Per FCC regulations 97.205(e), "Limiting the use of a repeater to only certain user stations is permissible." While this type of action is rare in the AUXCOMM world, there may be times when it is necessary. For example, it may be used where jamming is an issue. By using any repeater on the EHPC cluster, you agree to these statements. Since the repeaters are linked, if you violate FCC rules on one repeater, you will be doing it on every repeater. Therefore, if you do not agree to these statements we encourage you to not utilize this network/cluster.
PROBLEMS WITH INTERFERENCE OR SITE HARDWARE / SITE RESPONSIBILITIES:
If problems are discovered or interference is taking place, please report all issues to EHPCCLUSTER@gmail.com. A member of the workgroup will contact you when able.
The EHPC Cluster has utilized surplus equipment transferred to EHPC SMAT from the State of North Carolina Office of EMS. The equipment is utilizing the existing NCMCN UHF site hardware at each facility. The hardware is the property of EHPC SMAT for the purpose of regional emergency communications. EHPC SMAT works with hosting facilities for internet connectivity and VPN maintenance options.
PARCIPATATION IN THE ECHO EAST LINK SYSTEM:
The system is open to all radio amateurs and EMCOMM personnel. EHPC encourages participation both as a user and also outside systems. The EHPC hospital repeaters are primarily MMDVM based. Users wishing to add MMDVM or IPSC repeaters to the system are encouraged to reach out to EHPCCLUSTER@gmail.com
IPSC (Motorola) site administrators are encouraged to reach out for system participation or linking. EHPC/NC4ES desires to manage the bridging of systems and not necessarily hundreds of repeaters. Our primary focus remains to hospitals in Eastern North Carolina, Healthcare in general in North Carolina and networking with our neighboring states.
HBLINK Dashboard:
http://cluster.nc4es.org:8080/
EHPC (EAST Cbridge)
http://167.99.121.203:42420/CallWatch
Healthcare facilities needing AUXC assistance:
Regional facilities are encouraged to work with local emcomm groups to foster a relationship with auxiliary communications. Facilities needing assistance with AUXC operators can reach out to EHPC HCC (Healthcare Coalition) to request assistance from NC ESF2. Resource requests will occur and personnel assigned.
COMMUNICATIONS SUPPORTING HEALTHCARE FACILITIES -RADIO ENCRYPTION & HIPAA CONSIDERATIONS:
All communication on a radio should be considered "in the clear" over the EHPC Cluster talk group. Protected Health Information (PHI) is prohibited from being relayed over the system in accordance with HIPPA regulations. Private call and encryption is prohibited. The use of text messaging is acceptable, but it must follow the same rules. If personnel are supporting healthcare operations in a disaster, the following is a good rule of thumb for acceptable items to communicate:
∙ Number of patients needing assistance (12 patients needing evacuation etc) ∙ Triage categories (4 trauma reds, 3 medical yellow and 12 green)
∙ Medical resources needed (Hospital X is requesting a 70k generator)
NPS (NATIONAL PUBLIC SAFETY) REPEATERS
Each hospital cabinet contains a UHF UCALL/TAC repeater for disaster purposes. These repeaters are not considered online 24×7, but can be activated on command. These repeaters are for public safety and disaster use only.
CURRENT HOSPITAL REPEATER CAPABILITY IN REGION:
DMR
Vidant Beaufort Hospital ON AIR – LINKED 440.525 / NPS-U ON STANDBY
Vidant North Hospital
PLANNED
Vidant Chowan Hospital
COVERED BY COLUMBIA
CarolinaEast Medical Center
BUILT AWAITING INSTALL
Vidant Duplin Hospital
ON AIR- LINKED 440.5375 / NPS-U ON STANDBY
Vidant Roanoke-Chowan Hospital
COVERED BY COLUMBIA
Martin General Hospital
NOT PLANNED – DUE TO HEIGHT LIMITATION
The Outer Banks Hospital
ON AIR – LINKED 440.63750 / NPS-U ON STANDBY
Sentara Albemarle Healthcare
COVERED BY COLUMBIA
Vidant Medical Center –
ON AIR – LINKED 444.6250 / NPS-U ON STANDBY
Vidant Edgecombe Hospital
ON AIR – LINKED 444.5000
UNC Wayne Healthcare
COVERED BY FARMVILLE
Nash General Hospital
COVERED BY FARMVILLE
Vidant Bertie Hospital
COVERED BY COLUMBIA
Rocky Mount Master Site (Brown)
ON AIR-LINKED 441.81250
Onslow Memorial Hospital
ON AIR –LINKED 440.700 NPS-U ON STANDNBY
Farmville UNC (Greene)
ON AIR- LINKED
NC EOC RALEIGH
Sites have the ability to be multi-mode, but generally are DMR and P25 ONLY
9
ANALOG
SITE STATUS
BROWN TOWER ROCKY MOUNT
ON AIR 441.750 / 107.2
UNC NASH HOSPITAL
ON AIR 444.700 / 107.2
BRODY UHF (N4HAJ)
ON AIR 444.725 / 100.0
BROWN TOWER SCOTLAND NECK
ON AIR 444.075 / 203.5
MED 10 (GREENE – COLUMBIA)
ON AIR 462.975 / 107.2 – 173.8
GENERAL DMR SYSTEM BEST PRACTICES:
∙ Keep wide area talk groups open for calling and move to chat or local talk groups when able ∙ Ensure time slot 1 is not being used before keying demand talk groups on repeaters ∙ Clear the demand timeslot when QSO is finished
∙ Announce the talk group you are on when hailing as some radios are scan
∙ Allow a break period between TX's for users wanting to join in or emergency traffic
STANDARD TALKGROUP DEFINITIONS:
All of the below talkgroups are both available on the EHPC system and Brandmeister. All users are recommended to use Brandmeister as their hotspot server unless assigned otherwise. Any talkgroups can be "patched" or static/dynamic status changed on demand based on needs.
EHPC CLUSTER: Hospital cluster talk group for all EHPC hospitals. TG 2 TS 2.
LOCAL: Talk group is designed for local (single repeater) communications and is not linked outside the local site.
EASTERN NC: Talk group designed for regional communications across Eastern NC. 
ECHO TEST: Talk group designed for testing audio quality and general testing. Noted, this talk group should be listed as a group call 31000
CAROLINA 440: Talk group is linked to the Carolina 440 network
AUXC: Talk group available for NC AUXC operations
HEARS: Talk group is linked to the HEARS network
CHAT 1: Talk group designed for longer duration QSOs/Operations. Only active on sites with active PTTs
CHAT 2: Talk group designed for longer duration QSOs/Operations. Only active on sites with active PTTs